Isle of Skye
The Isle of Skye, which lies off the west coast of Scotland, is a magnificent location for photography, walking, mountaineering or gentle sight-seeing by car. From the grandeur of the Cuillin mountains to the gentle meadows of Sleat, from the rugged cliffs of the Trotternish coast to the 'coral' sands at Dunvegan, a wonderful variety of landscapes awaits the visitor.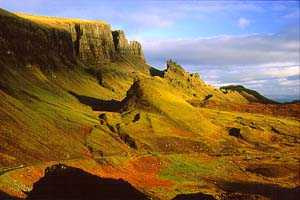 In addition to the natural landscape, Skye has many man-made features that are worthy of interest. These include standing stones, brochs and many ruined buildings and deserted settlements - relics of the 19th century Clearances.
Skye also offers great opportunities for the wildlife enthusiast. Otters can often be observed from our house and grounds, together with many species of sea birds. The Island flora is extremely diverse and includes ancient oak, ash and birch woodland. Freshwater lochans, coastal rock-pools, rugged cliffs and sandy beaches are all found on the Island, and offer almost limitless possibilities for exploration - with or without the camera.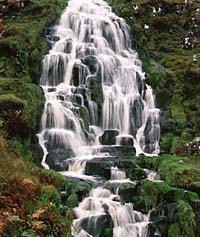 But above all it is the magical light, created by the ever-changing weather, that makes Skye such a rewarding experience for those who love the countryside, and for landscape photographers in particular.