Sea Drift Self-Catering Apartment



Proprietors: Gill & Steve Terry
The Skye Picture House, Ard Dorch, Broadford, Isle of Skye, IV49 9AJ, UK
Tel: +44(0)1471 822531 Fax: +44(0)1471 822305
e-mail:

[email protected]



Sea Drift, is a newly created three-bedroom self-catering apartment which we have been letting since Easter 2005.

About Sea Drift. Sea Drift is in an idyllic setting, right on the water's edge. It adjoins The Skye Picture House guesthouse, but is entirely self-contained with its own entrance, and parking close to the entrance door. Sea Drift is newly furnished and equipped to a very high standard, and we maintain a non-smoking policy throughout. This is a superb place to relax and enjoy the peace and quiet of this waterside location. You could have a wonderful holiday here and hardly ever leave the apartment, since there are magnificent views and a wealth of wildlife right here on the doorstep. This makes Sea Drift particularly attractive to bird watchers and wildlife enthusiasts, artists and photographers, those who want to simply switch off and relax, or perhaps those with mobility difficulties. Alternatively, our central location means that we are ideally placed for touring the island by car, or for gaining access to the hills for walking and climbing.




A secure porch leads to a sitting room with open plan kitchen and dining area, fully equipped for six guests. The sitting room has comfy seating, colour TV, CD player, and stunning views of the sea loch and the mountians from the windows. The kitchen has all the usual equipment, including fridge/freezer, washer-drier, microwave and cooker.


There is a downstairs bathroom with large shower, toilet and wash-basin, and a downstairs single bedroom, with lovely views across the water.


Upstairs there are two further bedrooms: a family room with double bed and single bed sleeping up to three which also has an en-suite shower-room with shower, toilet and wash-basin, and a double room with double bed and wash-basin. Both upstairs rooms have magnificent views across the loch and towards the mountains of the mainland.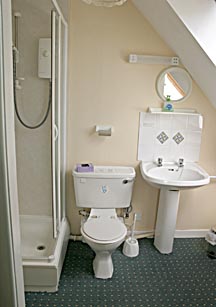 Each room has modern electric heating that is controlled by guests and is available at all times. In winter, background heating is also supplied by storage heaters. All electricity, heating and hot water charges are included in the rental price. We also provide bed-linen, towels and tea-towels free of charge.

We have made the ground floor as accessible as possible to people with mobility difficulties, including most wheelchair users. There is a ramped entrance, no steps, wide doorways and an accessible toilet and shower in the downstairs shower-room. However, since everyone's requirements are different, please check exact details with us before booking if you have mobility difficulties, particularly if wheelchair access is required.

Outside there is plenty of parking, a bench to sit on in a sun-trap near the entrance door, and free access to almost two acres of garden ground. This is mostly sloping moorland with heather and grass, trees and many wild flowers. There are two clothes lines used by the guesthouse which you are welcome to share. The garden ground runs down to the shore which you are also welcome to explore. There are rocky areas, pebbles, sea-shells and seaweed. The water is clean, and it would certainly be possible to paddle, or even swim if you wish, though the water might be cold! You can try your hand at fishing, and it would even be possible to launch a small boat or dinghy from here, if this can be carried down the bank to the water's edge.

Please note that some steep steps and a grassy bank separate the building from the shore itself. People with mobility difficulties may not be able to negotiate this route. We recommend that children are always supervised outside.

About the Location. Sea Drift is situated on the shores of Loch na Cairidh, about seven miles north of Broadford. The sea loch is tidal, and at high tide the water is just a few meters away, whilst at low tide the rugged rock and pebble shore is exposed. The setting is truly beautiful in all weathers and at all times of the year, and you can spend hours and hours just watching from the windows as the light changes on the water, and the wildlife passes by.

There is abundant wildlife, with otters and herons seen on many days and over fifty species of birds recorded from our windows.



We have sunrises and sunsets to die for.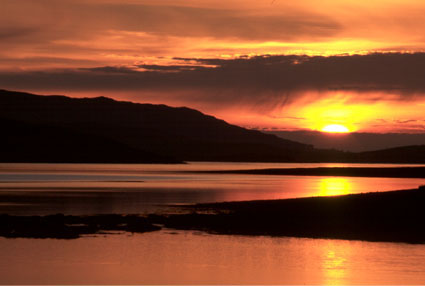 Sea Drift is 20 minutes drive from the Skye Bridge. Shops, restaurants, etc. are just 6 miles away at Broadford. Sea Drift is ideally situated for exploring Skye, being centrally positioned between the major peninsulars to south, north and west. For serious walkers and climbers, access to the Cuillin mountains is less than ten miles away.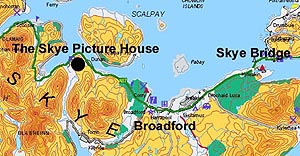 Prices and Booking: The normal rental period runs from Saturday to Saturday, and the price you pay is fully inclusive of all heating lighting and electricity costs, hire of bed-linen and towels, and tea-towels for each person who is booked in. There are no coin meters to feed!

The price per week in 2009 ranges from £285 to £515 depending on the time of year. To check prices and availability please email, telephone or write to us at the Skye Picture House.
We welcome bookings from UK or overseas visitors. The maximum number of people (including children) that we can accommodate is six. There is no minimum number.
I regret that we are not able to take dogs. Please note that Sea Drift is strictly non-smoking throughout.

If you are interested in booking with us please contact us in the first instant (by email, phone, fax or post) to check availability and prices. We are happy to make a provisional booking for you at this stage. To secure your booking we will ask you to fill in a simple Booking Form, which we can send you by post, fax or email, and to pay a booking deposit. Booking conditions apply, and we will send a copy of these out to you with the Booking Form. The balance is payable one month before the start of your holiday. We can accept payments by credit card (Mastercard or Visa), UK cheque, cash or Postal Order.

Please don't hesitate to get in touch if you need more information before booking.


Proprietors: Gill & Steve Terry
The Skye Picture House, Ard Dorch, Broadford, Isle of Skye, IV49 9AJ, UK
Tel: +44(0)1471 822531 Fax: +44(0)1471 822305
e-mail:

[email protected]